Discover the greatest influences of Self Intelligence
Up until the age of 23, I'd only read one book. I didn't like reading, I was much more of an active person and I found reading very difficult. That all changed when I discovered what I loved to read. In my early twenties, I was experiencing a dark night of the soul. I was wide open for answers and one day I found myself in a bookstore (which was unheard of at that time).
My eyes were unconsciously fixated on one book in the store. I stared at it for a while, not moving or even reading the title - I just stared and felt the energy of being pulled toward it. Then finally I read the title, The Art of Happiness by the Dalai Lama.
For me, The Art of Happiness was a big book with small writing and lots of pages. I would have normally walked away from such a book. But instead, I purchased it and sat and read that book for hours on end and finished it within a week. For the first time, something I read really made sense to me. I didn't feel like I was learning something new, it was more like remembering something I had long forgotten. This book was the start of my journey back home to who I really am.
I have now read many books on the subject of self discovery and transformation. I feel such immense gratitude to these amazing teachers who have reached the core of me so deeply and truly transformed my experience of life.
These books represent the 'essence' of Self Intelligence. If you are interested in commencing a Self Intelligence Course I highly recommend you get your hands on the books I have listed below and marinate in them before, during and after attending a course.
Many students of Self Intelligence have told me they have read the books listed on this page but it wasn't until they sat the Self Intelligence course did they truly understand and embodied the teachings of these amazing masters.
This is because Self Intelligence is first and foremost 'experiential'. The purpose is to create habits and skills that stay with you forever. Concepts won't change how you feel, however, these amazing books provide a profound foundation to transform your relationships, self-heal and naturally discover your purpose in the world.
Enjoy
The Way of the Peaceful Warrior
The is a great book for those who are new to the world of self discovery. It follows a beautiful story packed with insight and light bulb moments. It's easy to read, easily digested and has the power to impact your life forever.
The Power of Now
The Power of Now is one of the greatest books I have read that clearly illuminates what the 'ego' is, how the ego causes suffering, and how to discover 'who you are' beyond the ego state.
This book is for everyone but the feedback I have received is that it took a lot to digest it. You might find yourself having to read paragraphs or pages a few times over. Not because 'how' it is written is complicated or academic but because a shift in consciousness is required to understand what is being said.
You can read one paragraph in this book and let it percolate for days. This is a must read for self discovery.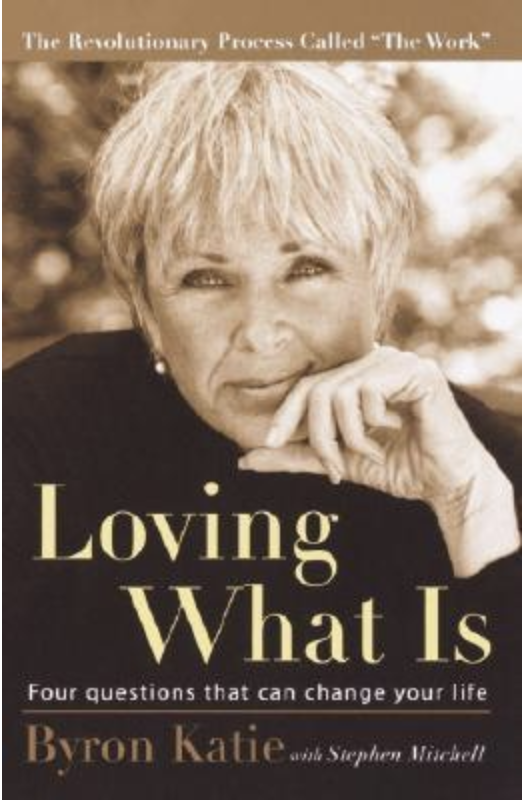 Loving What Is
This book is absolute genius. It not only makes super clear what the 'ego' is and how the ego state is at the root cause of all human suffering, it also provides a simple and practical 'enquiry' framework to free yourself of it.
Byron Katie calls it 'the work'. In this book, she provides countless real life examples of how 'the work' takes you from a place of trauma, pain and suffering and transforms all of life's 'problems' into gifts that set you free.
This book is an easy read but it can take a bit of time to accept that all our suffering is the result of what we are thinking and believing. Be patient with this one. 
Master your recovery time with my Free 10 Step Guide on 'how' to transform your triggers into the gifts they actually are.
I Need Your Love - Is That True?
This is my favourite and most highly recommended book of all time on the subject of relationships. Whenever I do relationship work with clients, this book is a must read.
I've read many relationship books and I didn't like any one of them until this one. This book speaks to the core of 'how' to have the relationships you have always dreamed of by aligning yourself and your relationship with the truth.
Be warned, this book is saying everything opposite to what most relationship self help books say. This book goes directly to the core of what true love is.
Courage - The Joy of Living Dangerously 
When you are on the precipice of change or in a challenging transition in life, this book has you covered.
OSHO is a master teacher on being a spiritual rebel, which means to follow your heart and be true to who you really are beyond the expectations of societal 'norms' and 'narratives'.
This book encourages you to let go of your 'conditioned' false sense of security and be real with yourself. You are taken on a journey of facing your fears to discover just over the horizon is the true freedom your heart has been yearning for.
Radical Honesty 
This book is so close to my heart I felt like I literal wrote this book. This is an absolute must read. This book reveals the ugly truth that we are conditioned from birth to lie in order to get love and approval.
All drama and most chronic health issues are birthed in lies. We carry these lies as masks and roles to protect us and to manipulate and control our needs for love and approval.
This book offers a huge wake up call to this unseen reality and provides a safe path to step into the uncomfortable waters of radical honesty that creates the environment of true healing and self alignment.
Before I am
When it comes to self discovery, this book written by Mooji is hands down the KING. The words on these pages are so intensely true the book itself will burn all that is false in you right there on the spot.
There is not one wasted word in this book. Read any page, any line, from any chapter at random and you will be plunged into truth.
This book is for everyone, yet I don't often recommend it to beginners unless you feel intuitively called to read it.
For me, there is no other book after this one on the subject of truth and self discovery. When the words in this book are understood, the conversation is over.
More amazing books:
~ Eastern Body Western Mind by Judith Anodea
~ Anatomy of the Spirit by Caroline Myss
~ Quantum Healing by Deepak Chopra
~ Everyday Enlightenment by Dan Millman
~ The Laws of Spirit by Dan Millan
~ Finding your Life Purpose by Dan Millman
~ Biology of Belief by Bruce Lipton
~ The Wisdom of No Escape by Pema Chodron
~ The Four Agreements by Don Miguel Ruiz
~ Bodymind by Ken Dychtwald
~ Emotional Anatomy by Stanley Keleman
~ Reinventing the Body, Resurrecting the Soul by Deepak Chopra
~ Illusions by Richard Bach
~ When things fall apart by Pema Chodron
~ Molecules of Emotion by Candace Pert
~ The book of awakening by Mark Nepo
~ The Exquisite Risk by Mark Nepo
Offerings
Get Skilled Up For Freedom
Can't wait to get started! Start today with a FREE guided
Self Recognition Practice and discover who you are today.
Can't wait to get started! Start today with a FREE guided Self Recognition Practice and discover who you are today.